A Paradise on the Prairie.
Medicine Park is the perfect place to use as an escape from the hectic bustle of life and lose yourself in nature.  When you visit, you'll find mountains, trails, lakes, prairies, wilderness, and so much more.  Whatever adventure you're looking for, you'll find it all at our historic, scenic town.
Bath Lake was formed in the 1920s as the town's swimming hole and has since remained a hidden gem in the state.  Located in the center of downtown, you will find a lake that contains beautiful waterfalls, stairs that provide entry at different points, and plenty of both shallow and deep areas, allowing you to sit, stand, swim, or simply float and enjoy the picturesque scenery that surrounds the shoreline.
In the winter, Bath Lake is the perfect spot to perch on the shore and fish for trout.  Bath Lake monitors can be found on the deck if you need any assistance. 
Fee: Swimmer wristbands are $3 per swimmer over the age of 5.  Residents swim for free!
Open 7 days a week, starting Memorial Day Weekend through Labor Day
Hours: 10am-8pm.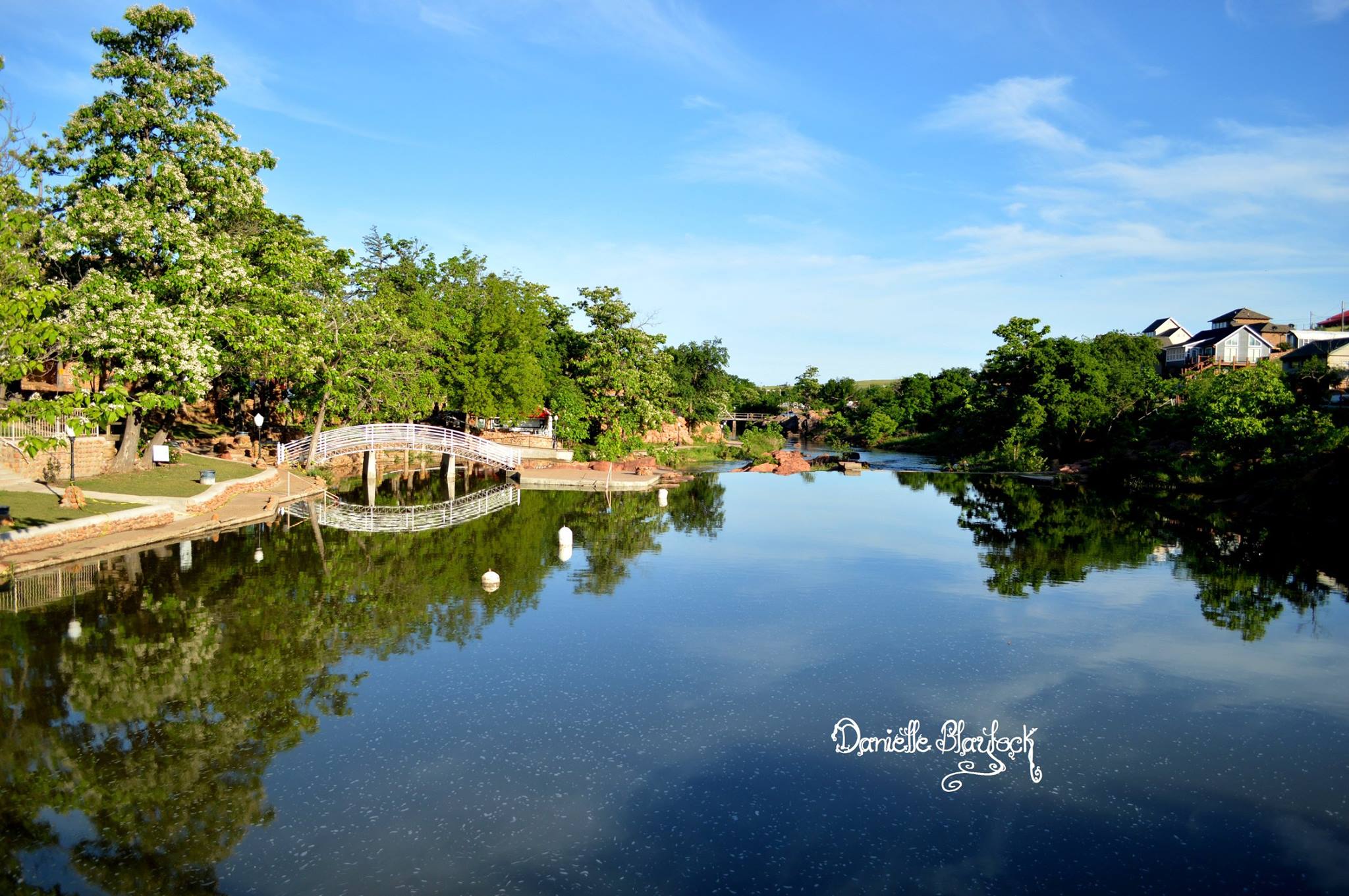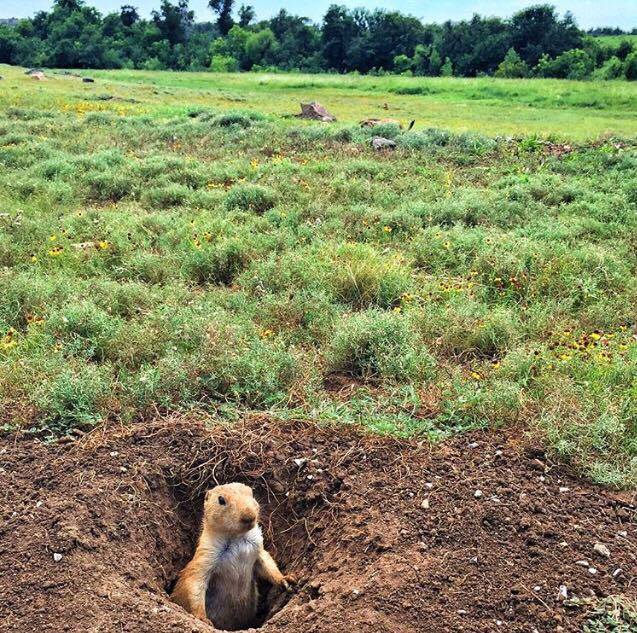 Wichita mountains Wildlife refuge
The Wichita Mountains form the backdrop of Medicine Park and provide plenty of opportunities to explore.  Stretching across 59,000 acres of mixed grass prairie and managed by the U.S. Fish and Wildlife Service, the Wichita Refuge is home to hundreds of species of animals.  On any given day, you will see American bison, Rocky Mountain elk, white-tailed deer, Texas longhorn cattle, and of course, the signature prairie dog.  It's a perfect blend of historical legacy and breathtaking scenery that you won't find anywhere else.
In addition to this spectacular wildlife, visitors can participate in many other activities, such as hunting, fishing and camping, as well as many hiking and bicycling paths.  If you're feeling a bit more adventurous, the refuge is home to 8,570 acres of designated wilderness.  The northern portion is mainly reserved for the wildlife, but the southern portion is open to people who that want to take a trip back in time where animals ruled the land. 
For more information, visit the refuge official site:  https://www.fws.gov/refuge/wichita_mountains/
Created in 1905 by the Lake Lawtonka Dam, Lake Lawtonka sits just to the east of Medicine Park.  The lake spans more than 2 square miles, providing visitors with more than 20 miles of shoreline.  Overnight campgrounds are available to the public, as well as picnic structures, playgrounds, hot showers and bathrooms.  If you forgot your supplies at home, stop by the nearby marina and gas station to make sure your adventure can continue.
Boat ramps and docks allow access to the lake at various points.  Feel free to explore the entirety of the lake, or simply let your boat drift and enjoy the scenery that the nearby mountains provide.  If fishing is more up your alley, fishing docks are also present.  The lake is known for its smallmouth bass population and holds Oklahoma's record for the largest reeled in (March 31, 2012).
Link to City of Lawton: https://www.lawtonok.gov/departments/lakes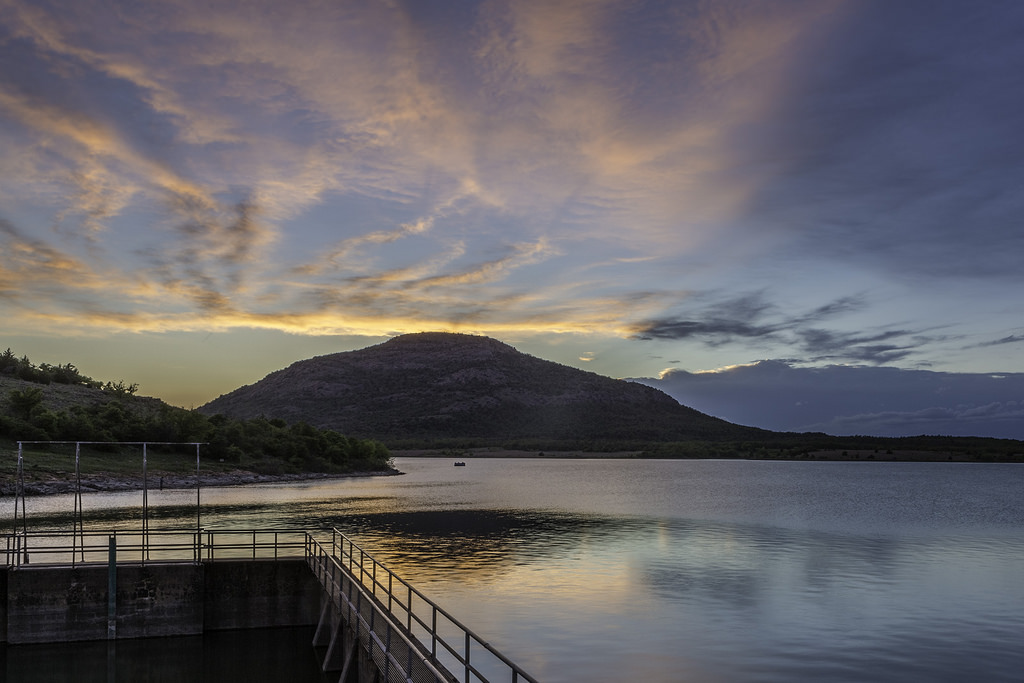 Fort Sill is the home of the Fires Center of Excellence, located just outside Lawton, Oklahoma.  Medicine Park acts as a relaxing retreat for soldiers and their families, whether they are stationed at the Fort or simply passing through for their Basic and AIT training.  When you visit our historic little town, feel free to explore what we have to offer.  Take a scenic canoe ride at Bath Lake, or hop in for a refreshing swim before returning to one of our quaint cabins for some R&R.  If you venture into town, you'll find plenty of restaurants that offer great food for the whole family, as well as local shops that offer one-of-a-kind souvenirs to remember your trip.
Historic Fort Sill is also a great stop for our local visitors.  Visit the Fort Sill National Historic Landmark and Museum to explore the area's rich history or take a trip to the Lake Elmer Thomas Recreational Area for a relaxing day to soak in the sun and surroundings.  Click on the link below to check out the Fort Sill Website and start planning your trip today.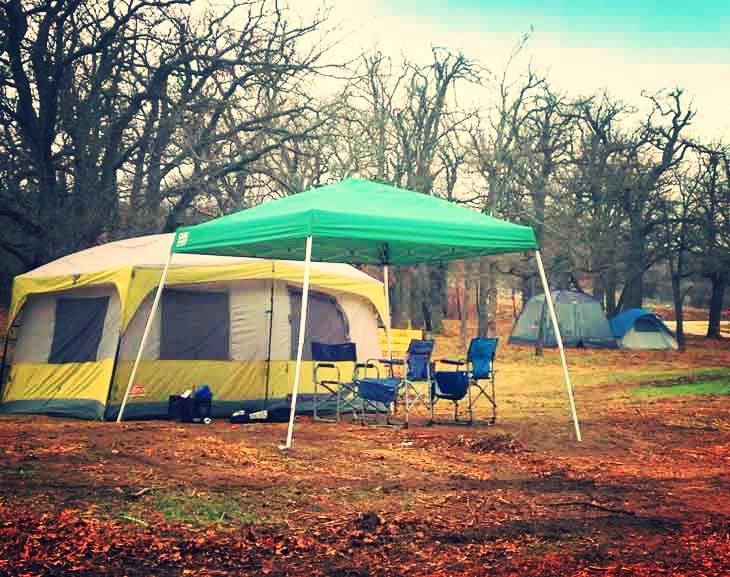 Whenever the mood strikes to explore the outdoors in an overnight trip, hop in your car and drive down to Medicine Park.  If you're looking for a more urban campsite, we offer several campgrounds around our town and the nearby lakes.  If it's wilderness you're looking for, be sure to visit the Wichita Wildlife Refuge and pitch your tent underneath the stars.  Or if you prefer a primitive camping experience, Medicine Creek's Primitive Campground is located next to the water and is the perfect spot for you. 
Medicine Park Primitive Camping Permit
 https://www.fws.gov/refuge/Wichita_Mountains/activities/camp.html    
Medicine Park offers many different locales for all of your outdoor picnic needs.  You'll find many picnic structures scattered throughout the town, such as next to scenic Bath Lake or Lake Lawtonka.  If you prefer a more adventurous route, pack a blanket and picnic basket and claim a perch next to Medicine Creek and let your eyes wander over the different shops and art galleries along the waterfront.  Or take a short hike and take in the picturesque surroundings such as Mount Scott or the Wichita Wildlife Refuge.  Whatever you're looking for, you're sure to find what you want in Medicine Park.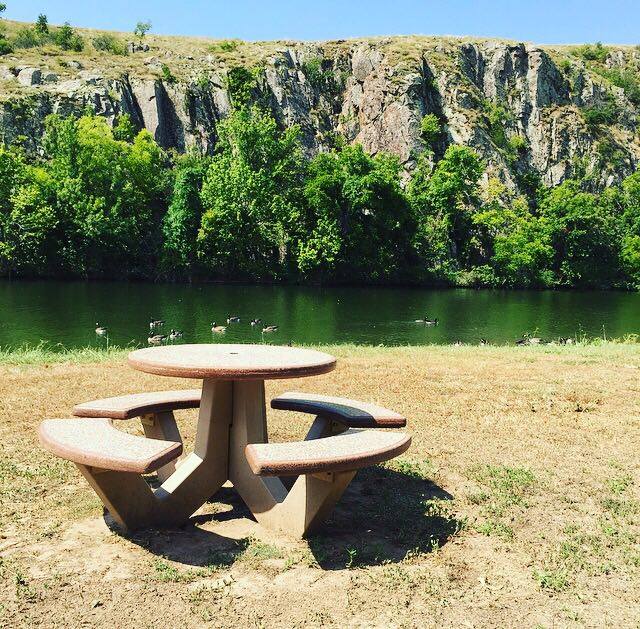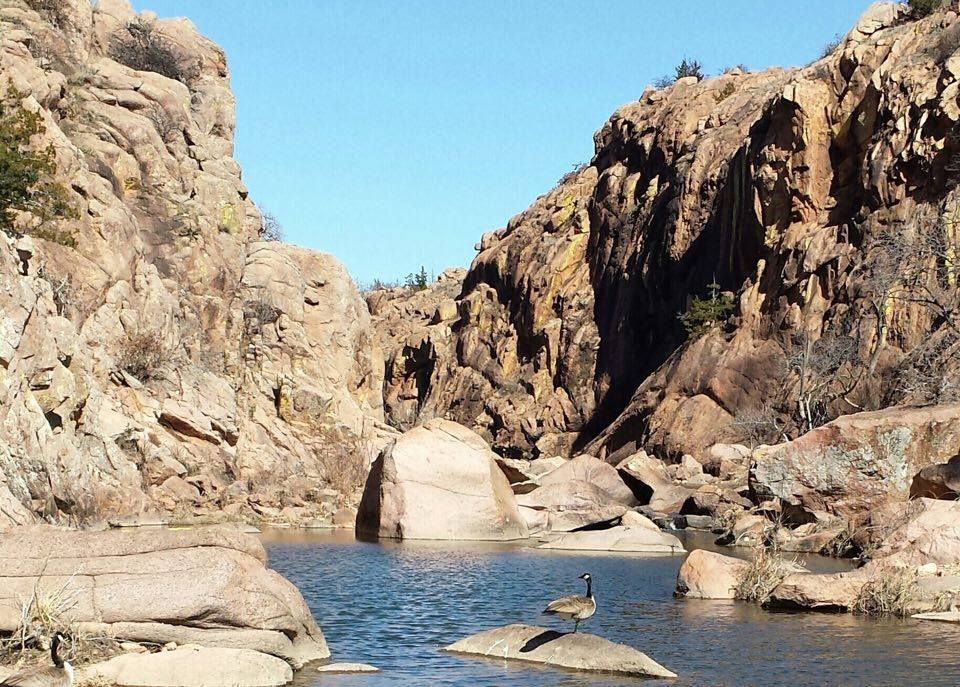 The Lawtonka Trails in Medicine Park are perfect for an outdoor adventure.  Our six trails provide a different level of difficulty, allowing you to pick the type of adventure you want.  Located between Lake Lawtonka and Mount Scott, you'll find a great mix of landscapes, from boulders and creeks to cobblestones and rock gardens.  Abundant tree cover provides plenty of shade in the summer and a beautiful canopy of color in the fall.  Situated away from the major roads and thoroughfares, it's a perfect place for you to connect with nature and clear your head.  Or, if you prefer to travel with a group, check out the Mountain Bike Club of the Wichitas below to find a travel buddy.
https://www.facebook.com/Mountain-Bike-Club-of-the-Wichitas-220164114775153/?fref=ts
Group Rides and Runs
Meet at BaseCamp, located at 206 East Lake Drive, Medicine Park
Wednesday 5:30pm: Mountain Bike/Run
Saturday 9:30am: Mountain Bike
Free Trout Fishing Season in Medicine Park: November 1 through March 15.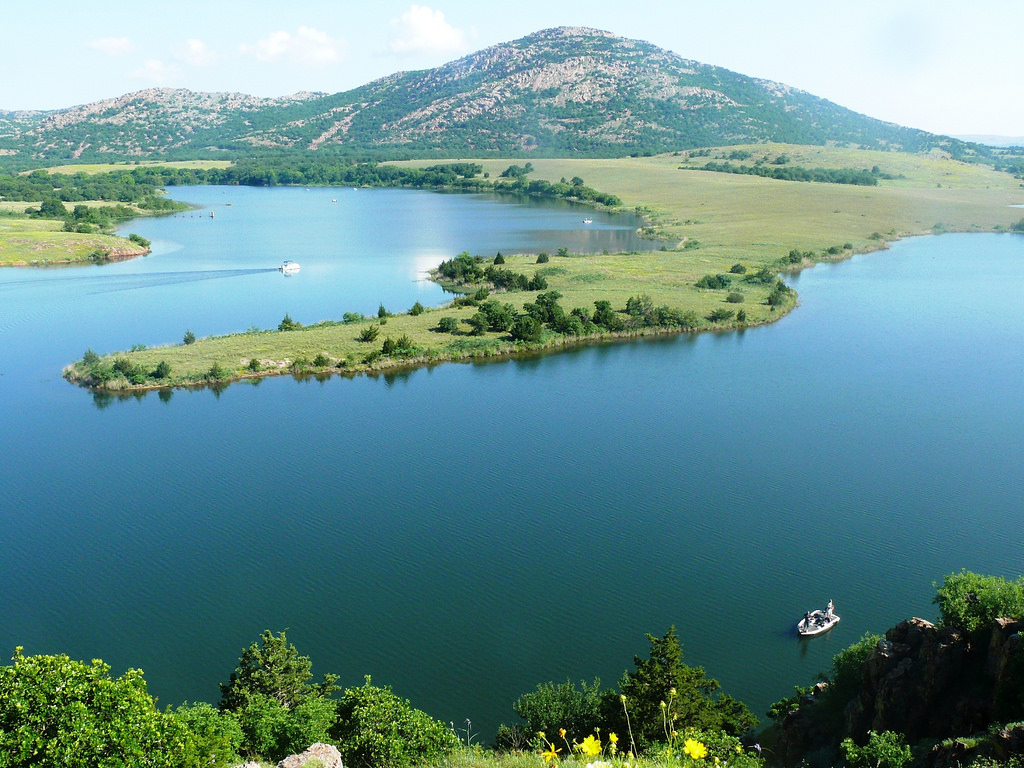 There are 15 lakes in and around Medicine Park that are perfect for a family getaway for a day or weekend, complete with boat ramps, access points and storage for your boats.  If you're without a boat, don't fret; there are several rental shops conveniently located on your way to the waterfront.  If you're wanting to make it a weekend getaway, we welcome you to stay in our rustic cabins that are stocked with all the amenities.