A Paradise on the Prairie.
Medicine Park is the perfect place to use as an escape from the hectic bustle of life and lose yourself in nature.  When you visit, you'll find mountains, trails, lakes, prairies, wilderness, and so much more.  Whatever adventure you're looking for, you'll find it all at our historic, scenic town.
Medicine Park's Aquarium and Natural Sciences Center is located at the foothills of the Wichita Mountain Wildlife Refuge.  Here, you'll be able to stroll through our Wildflower and Butterfly garden with Mount Scott providing a picture-perfect backdrop.  Experience our electric eel feeding demonstration, stop by Turtle Town and feed the turtles, or visit our River Otter exhibit.  Many of the exhibits are focused on species found only in Oklahoma, giving visitors a glimpse into the beauty found in our state.  These exhibits include a look at Sunfishes, True Basses, Catfish, Trout, Pikes and Perch, Bio-Diversity, Jurassic Fish, and Marvels and Mysteries.  It's sure to be an exciting educational and recreational experience for the whole family.
Hours of Operation:
10am-5pm every day (closed Thanksgiving and Christmas)
Admission:
Adults (Age 13-61): $10
Seniors (Age 62+): $8
Youth (Age 6-12): $8
Military: $8
Child (Age 3-5): $5 
For more information, such as group rates and annual membership, call 580-529-3601 or visit our website at: http://www.mpmns.org/
facebook at https://www.facebook.com/mpmns.org/
BaseCamp Adventures is your one-stop shop for all your outdoor adventure needs!  They supply visitors with gear for hiking, biking, climbing, and much more, as well as Joe Mountain clothing.  If you're looking a lake escapade, you can rent paddleboards, canoes, kayaks and mountain bikes for $10/hr or $40/day.
BaseCamp also organizes trail runs and bike rides for you to join in on every Wednesday at 5:30pm and a bike ride every Saturday at 9am.  Simply meet up at BaseCamp at the designated time and explore the beauty of the surrounding area.
Store Hours:
Fri-Sun: 12pm-6pm
Tel: 580-574-8955
Address: 206 East Lake Drive, Medicine Park, OK 73557
The Blissful Body is a massage studio certified in a variety of therapy techniques.  From general massage therapy, to Shiatsu and Swedish Massage, to a Deep Tissue Massage, Ginny and her staff can accommodate your needs and provide a stress-relieving experience.  If you want to really pamper yourself, be sure to ask for a Stone Cold Facemask, a Ritual Foot Bath, or a Lip Exfoliation Treatment.  The historic beauty of Medicine Park only adds to the experience and is the perfect spot for a spa party package with your family, friends or bridal party.  Call or visit The Blissful Body Facebook page for more details.
https://www.facebook.com/theblissfulbody/
Tel: 580-574-0232
Address: 204 East Lake Drive, Medicine Park, OK 73557
The Branded Bear is Southwest Oklahoma's source for Authentic Native American Indian Jewelry and Pottery.  Every piece of jewelry or pottery that you see on display is from various US tribes that The Branded Bear is proud to represent.  The best part about it, however, is their claim to fame: the $39.95 and below jewelry showcase.  Whether you're buying for yourself or as a gift, there's something for everyone in the selection!
 Store Hours:
Mon-Tues: Closed
Wed-Sat: 11am-6pm
Sunday: 12pm-5pm
 Tel: 580-529-3656
Address: 148 East Lake Drive, Medicine Park, OK 73557
https://www.facebook.com/The-Branded-Bear-95179293307/
sales@thebrandedbear.com
Chaps My Ass is Medicine Park's hub for everything you need to make your motorcycle riding easier and more enjoyable.  The staff offers all visitors their knowledge, fair prices, and a friendly atmosphere to make your experience great.  Chaps is large enough to be able to provide the broad range of equipment needs you may have, but small enough to be able to greet you on a first-name basis. 
Store Hours:
Wed-Fri: 12pm-5:30pm
Sat: 10a-4pm
Sun: 12pm-4pm
Tel: 580-529-2248
Address:  205 East Lake Drive #B, Medicine Park, OK 73557
The Comanche Shirt Company offers a wide range of shirts to commemorate the town of Medicine Park, the Wichita Wildlife Refuge, The Comanche Nation, and the great state of Oklahoma.  It also offers unique designs from a Comanche artist!  All shirts are designed and hand-printed right here in Medicine Park.  With sizes ranging from 6 months to 4X, you're sure to find something you'll love.
Address: 172 East Lake, Lawton, OK 73505
http://www.comancheshirtcompany.com/
https://www.facebook.com/comancheshirtco/
Discovery Outpost is a Family Adventure Shop in Medicine Park filled with wonder and imagination! Join us for Story Time, Invent & Create and Funventure classes. Explore our historic cobblestone Cabin and examine fossils, insects and butterflies. Peruse the shelves of science gadgets, toys, educational books, and classic literature. Like our Page, click Events to view our schedule, and bring the family to Discovery Outpost for an educational adventure!
Store Hours:
Wednesday: 11am-5pm
Thursday: Noon to 6pm
Friday: Noon to 6pm
Saturday: Noon-6pm
Sunday: 1pm-5pm
Tel: 580-340-0329
Address: 208 East Lake Drive, Medicine Park, OK 73557
http://www.discoveryoutpost.com/
Located to the east of town off Highway 49, Dollar General will take care of all of your grocery and merchandise needs at a discounted price.  Restock your supplies and head on into Medicine Park to get your adventure started.
Hours:
Mon-Fri: 8am-10pm
Sat-Sun: 8a-11pm
Tel: 580-529-3075
Address: 7738 NW Madische Rd, Medicine Park, OK 73557
The Healing Clinic is a full-service medicinal cannabis dispensary that is veteran owned and operated and strives to meet the needs and goals of medical cannibis consumers by providing non-habit forming pain relief.  It is a safe, professional and friendly atmosphere with a hippie, eclectic vibe.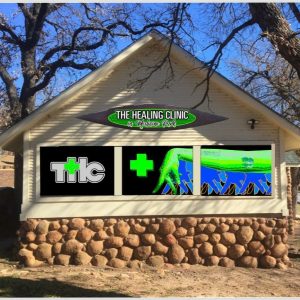 Address: 204 East Lake Drive, Medicine Park, OK 73557
Laughing Lizard Trading Post
From paintings and pottery to handmade dolls and books, you'll find a wide selection of goods at the Laughing Lizard Trading Post.  It is our town's culture gift store that offers a variety of one-of-a-kind gifts.  Located just in front of Chaps, this charming shop will not disappoint.
Store Hours:
Sat-Sun: 11am-5pm
Tel: 580-529-3348
Address: 205 East Lake Drive, Medicine Park, OK 73557
Little Dam Bait Shop & Store
The Little Dam Bait Shop & Store is your one-stop shop for all of your fishing needs.  Jonny offers live bait, works, buckets and tackle.  Forgot to pack a picnic lunch or need to restock your cabin?  Stop in and pick up milk, eggs, bread, ice, drinks, snacks, candies and more.  Plus, in the summer, Jonny offers fresh, delicious home-grown tomatoes.  Located just north of the water plant on Water Street, it's just a cobblestone throw away from the dam.
Store Hours:
Tues-Wed: 8am-7pm
Thurs-Sun: 7am-7pm
Tel: 580-529-3267
90 Water Street, Medicine Park, OK 73557
Located directly off exit 45 where Interstate 44 and Highway 49 meet, Love's is a great place to fill up your tank and grab a snack on your way to and from Medicine Park.  Below are a list of fuel types, amenities, and accepted payments.
Tel: 580-529-2882
Fax: 580-529-2445
https://www.myloves#263.com
Medicine Creek Olive Oil Company
Medicine Creek Olive Oil Company is a family-owned business that is extremely passionate about what they do.  Here, you'll discover some of the finest oils, vinegar and spices that are sure to accent your home recipes.  Not only will you have a unique and fun shopping experience to tell your friends about, you'll also be able to learn about some of the finest and freshest olive oils and health products from around the world.
In addition, Medicine Creek Olive Oil Company carries beautiful Olive wood dipping and serving bowls, utensils, and a gorgeous array of pottery ware.  While you're there, you can also pick up some lovely scented candles that pair perfectly with their Olive Oil skin and hair care products.  You can shop their products online, too!
Store Hours:
Closed Tues-Wed
Thurs-Sat: 10am-6pm
Sun-Mon: 11am-5pm
Special hours for festival weekends
Tel: 580-529-0010
213 East Lake Drive, Medicine Park, OK 73557
Native Roots Herbal Apothecary
The Purple Thistle is the first cabin you'll see on Cobblestone Row.  There, you'll find an eclectic mix of jewelry, antiques, small furniture, wall hangings, and much more.  The Purple Thistle also houses Medicine Park Rentals and All-Terrain Realty.  Be sure to stop in and browse this jewel of a store.
Address: 172 Cobblestone Row, Medicine Park, OK 73557
White Buffalo Trading Post
The White Buffalo Trading Post is filled to the brim with an assortment of merchandise.  Many of the items are handmade by local artisans, such as colorful blankets and beautiful quilts.  If you left your swimsuit or sunblock at home, not to worry; they've got you covered.  You'll also discover Native American jewelry and rhinestone jewelry that pairs well with fun fur purses and hats.  The cigar guitar boxes are a popular item, as well as the ponchos.  Or if you want, take a trip down memory lane and relive your favorite childhood memories with a Slush Puppy or some salt-water taffy before taking a seat at their one-of-a-kind Soda Saloon.
Store Hours:
Sat-Sun: 11am-7pm
166 East Lake Drive, Medicine Park, OK 73557
https://www.facebook.com/The-White-Buffalo-Trading-Post-238780926297148